ENJOY THE WORLD'S BEST MOUNTAIN AND ADVENTURE FILMS FROM HOME!
As the nights draw in, shut out the cold and liven up your evening at home with an inspirational event from the Banff Mountain Film Festival!
Starring fearless explorers, super-human challenges and spellbinding footage from the most remote corners of the globe, the Banff Mountain Film Festival is a collection of short films from the world's best adventure film-makers, delivered to your living room.
Handpicked from the world's most prestigious mountain film festival in Canada, join the planet's top adventurers as they push themselves to their limits and beyond. In this brand-new virtual event, witness fearless climbing, epic skiing, extreme kayaking, and meet characters who know what it means to live life close to the edge.
FULL FILM DETAILS

Join us for the BLUE Film Programme which will be broadcast from 13 November and will be available for 48 hours afterwards. A viewing pass includes access to this adrenaline-packed selection of short films, plus behind-the-scenes interviews with film-makers, film introductions by the Banff team, free online tour magazine, a bonus kids' zone with inspiration and films designed for youngsters, the ultimate adventure quiz for the whole family and much more!
Purchase a viewing pass for access to the event or even better, opt for a Banff Bundle and your viewing pass will be free!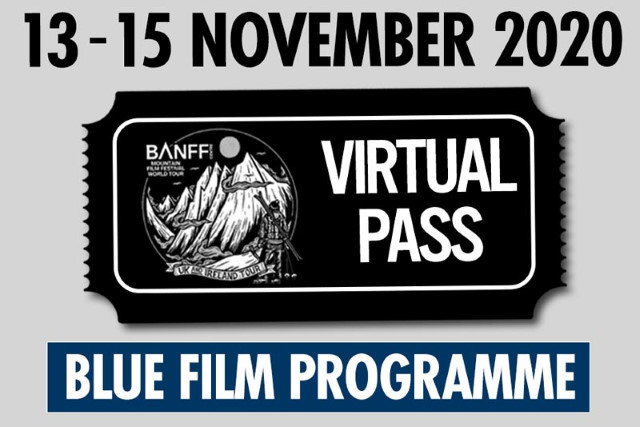 Watching from Ireland?